Banking on Your Time!
Gain control of your account with Online Banking. You can sign up for account alerts, transfer funds, set up recurring transfers, monitor your account, pay bills, set up budgets, and so much more. For a sneak peek, check out our demo below. Don't have Online Banking?
Go Paperless!
Sign up for eStatements and get your statements electronically... it's FREE!
Try it! Interactive Online Banking Demo
Features & Tools

Live Chat
Chat live within Online & Mobile Banking to help with your account balance, debit card, transfer/loan payments, eStatements, and more! Available Monday - Friday from 8:00am - 5:00pm.
Check Account Balances & History
It's easy to quickly check your account balances and your account history
Transfer Funds Between Accounts
You can transfer funds between accounts, set up automatic recurring transfers, and transfer money to accounts you have at other financial institutions
Get Alerts Via Email or Text Messages
Be alerted when your balance is high or low, or receive a weekly notification of your balance. You can receive these via email or text message.
Pay Your Bills Online
Pay your bills within Online Banking with Bill Pay! This FREE tool will also remind you of upcoming due dates, and much more.
Money Management Tool
This tool allows you to view your spending habits over time, set budgets/goals, look at your overall financial picture… including your credit cards, loans at other institutions, retirement accounts, and more!
Text Message Banking & Text Alerts
After opting in you can send a text message to a specific code and get your balance, make transfers, etc.
Note: Setting this up can only be done within Online Banking using our website, NOT via our mobile app.
Use Online Banking on your mobile device with Mobile Banking
Our Mobile FCB app is available to download on smartphones, tablets, and smartwatches. Click here to learn more.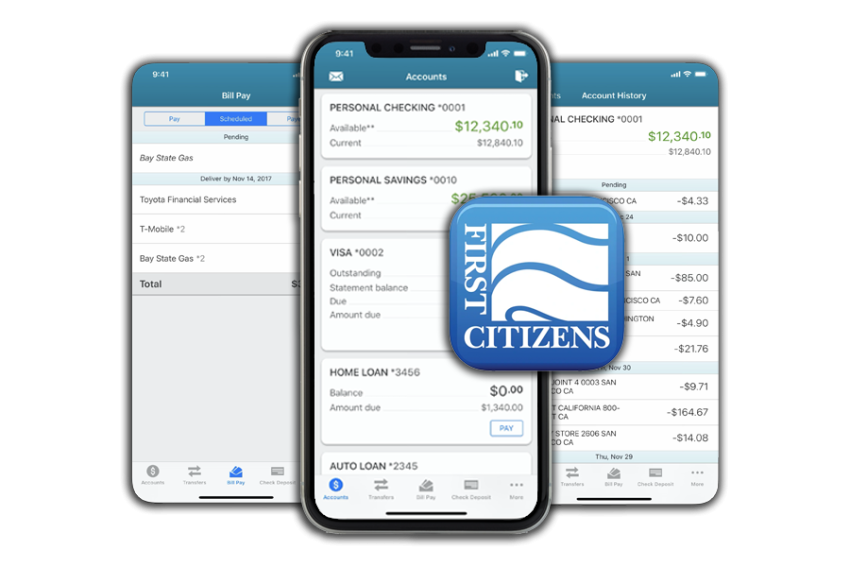 You can download our app three ways:
Go to your phone's app store and search for "First Citizens Bank."
Scan the provided QR code.
If you're on your phone right now, tap the logo of your phone's native app store to be taken to the app download page.

Online Banking FAQs