Pay EASILY with Your Digital Wallet
A digital wallet is a way to carry your credit and debit card information in a secure digital form on your mobile device such as a smartphone, smartwatch, or tablet. Instead of using your physical plastic card to make purchases, a digital wallet allows you to pay almost anywhere, including in store, online, and in apps. Here's how digital wallets work:
How does a digital wallet work?
Add your First Citizens Bank debit or credit card to the digital wallet you'd like to use.
Access your digital wallet and choose an FCB card when you pay at participating businesses. They will typically display this icon at the checkout station.
Receive payment confirmation on your device.
Setup Instructions for Specific Devices
Benefits of a Digital Wallet:
Pay Securely: Digital wallets replace your actual card number with a unique digital card number. This means businesses do not see or store your full card number.
Easy to Use: Confirm your identity with a PIN, fingerprint, or iris/face scan. Then you can tap to pay at participating businesses.
Global Acceptance: Use digital wallets to pay at millions of businesses around the world, plus in stores, online, and in apps.
You are in Control: Whether you choose to pay via card or digital wallet, YOU have the choice, and First Citizens Bank is pleased to offer you these alternative digital wallet payment options.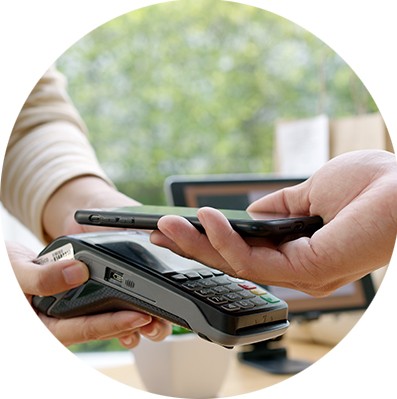 Digital Wallet FAQs
Is it free to use a digital wallet?
Yes. Be aware that message and data rates may apply, depending on your device's data plan.
How secure is it to use?
The safety and security of your account is a top priority. When you pay with a digital wallet (Google Pay, Samsung Pay, etc...) and your FCB debit or credit card, your actual card number is replaced with a unique digital card number, which means businesses do not see or store your full card number. Plus, every transaction makes you verify your identity through your device, either by passcode, fingerprint, or face/retinal scan.
I received a weird message from Brella after I set up my device. What does that mean?
If you've enrolled in Brella (the free debit fraud monitoring program powered by Shazam) you may receive a fraud alert via email or text message (depending on your settings). This will only occur when you use text message verification to complete your set up, not if you choose the phone call verification method. If you receive this fraud alert message you may choose to ignore it or you may call Shazam as instructed in the email.
I have a question that is not listed here. Who should I contact?
You may call First Citizens Bank toll-free at 800-423-1602. They will be happy to answer any other questions you may have. For more detailed technical information, visit the website for your particular device.