Go Digital With First Citizens Bank! (Part 2)
At First Citizens Bank, we offer ALL things digital for your ease. Technology makes it easier to manage your money now more than ever. We offer the banking technology you need to do everything online! Read below to learn more about some of the digital banking features at First Citizens.
Digital Wallet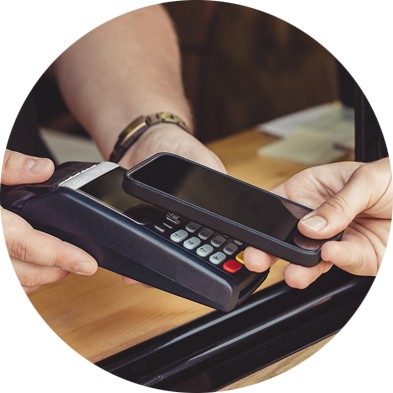 A digital wallet is a way to carry your credit and debit card information in a secure digital form right on your mobile device, such as a smartphone, smartwatch, or tablet. You can use this feature instead of using your physical plastic card to make purchases. With a digital wallet, you can pay almost anywhere, including in-store, online, and in apps.
How does a digital wallet work?

Add your First Citizens Bank (or other financial institution) credit or debit card to the digital wallet of your choice.
Access your digital wallet and select the card you want to use when you are paying at participating businesses. If a business has the option to pay via digital wallet, they will typically display an icon at the checkout.
Then you will receive payment confirmation on your device.

Benefits of a Digital Wallet:

The ability to pay securely.
The ease of use.
Globally accepted.
You are in control.

For more information on digital wallets, and details on how to set up a wallet for specific devices, click here.
Mobile Deposit
Depositing checks is EASY with the FCB Mobile Banking app. Deposit a check into your bank account right from your smartphone using the Mobile Deposit feature within mobile banking. When endorsing the back of the check with your signature, include "For mobile deposit only at First Citizens Bank" AND check the box and fill in the information if the back of your check has the mobile deposit option. Deposit limits do apply to Mobile Deposit, please contact First Citizens Bank with questions.
STEPS:

Open the FCB Mobile Banking app
Login to your account
Tap "Check Deposit" on the bottom menu
Select account which you'd like to deposit the check into
Type dollar amount of check
Tap camera icon
Take picture of both the FRONT & BACK of the check (back must include the words "For mobile deposit only at First Citizens Bank" or the deposit may be rejected.
Tap Deposit
AND DONE!
Alerts & Notifications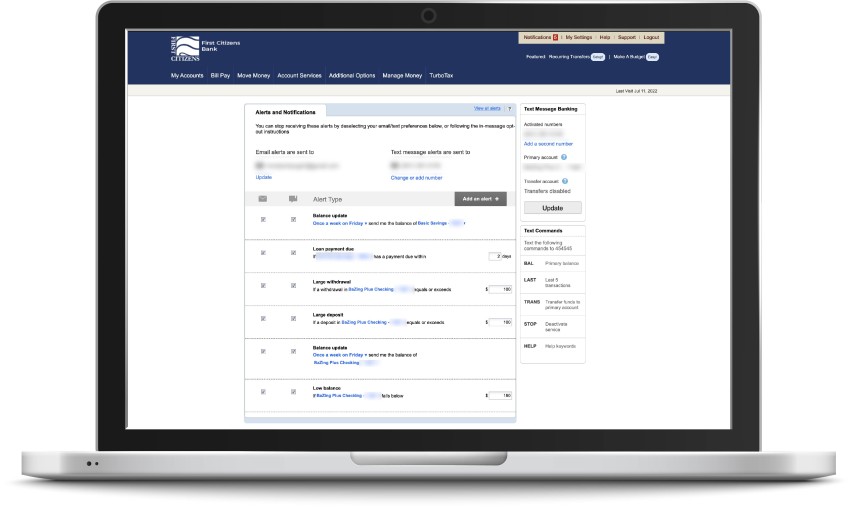 Receive notifications and alerts! Be alerted when your balance is high or low, receive a weekly notification of your balance, and more. You can receive these as a push notification within the mobile app, email, or text message.
Push Notifications:

Login to Mobile Banking and tap More > Settings > Push Notifications to turn them on and off.

Email and Text Message:

Login into Online Banking and click My Settings > Alerts & Notifications then set up which alerts you'd like to receive and how you'd like to receive them.
Text Message Banking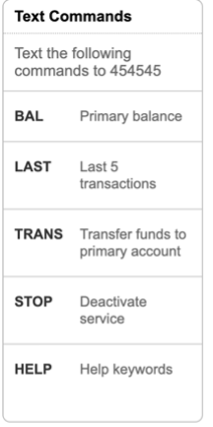 Text Message Banking (Step-by-step instructions):
After opting into text message banking via ONLINE banking, you can send a text message to a specific code and get your balance, make transfers, etc.
Steps to opt in

1. Log into your First Citizens Online Banking account via internet on any device. Text message/SMS banking can only be initiated from the website, NOT via the app.
click My Settings > Alerts & Notifications and add your cell phone for text alerts. OR under the "Account Services" menu choose "Mobile Banking & Alerts"
On the right side of the screen, you will see a box with "Text Message Banking"
Click "Start text banking now" and verify your cell phone number
View and accept the Mobile Verification Agreement and then enable text message alerts
Once you've enabled Text Message Banking, the text commands menu will appear, and you can get started!
This is only a few of the many digital banking features that First Citizens has to offer. Check out Part 1 of the digital banking features here.